Save Energy and Money With Maryland Replacement Windows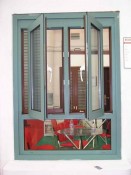 Roof Masters is pleased to offer the revolutionary Energy Swing™ replacement window to homeowners in Maryland and Washington DC. This unique window design offers excellent thermal performance for significant energy savings, along with the most convenience of any replacement window on the market.
Replacing your home's old windows with new, energy efficient windows offers several advantages, including:
Reduces monthly energy expenditures by as much as 30% or more
Keeps your family warmer all winter, cooler all summer
Makes cleaning windows a snap
Enhances the value of your home
Makes your home look beautiful and renewed
Energy Swing's patented swing-in vinyl replacement windows are fast and easy to clean from the comfort of your home. You don't even have to remove your curtains to fully operate and clean these custom windows. Just swing and clean. It's that easy!
Tilt-in windows require much more effort. In most cases with tilt windows, you'll have to move heavy furniture, remove draperies, and set aside a significant amount of time just to clean a few windows. Furthermore, cleaning the top sash of a tilt window can be difficult. You have to tilt-in and hold the bottom sash while reaching up to tilt-in the upper sash. This requires you to hold both sashes while trying to clean them, which is not at all an easy task.
Roof Masters is the only Maryland replacement windows company offering the advanced Energy Swing window. No other replacement window combines exceptional thermal performance, beautiful design and "swing-in" convenience like Energy Swing windows.
Get a Free Replacement Windows Estimate
What can Roof Masters do to make your home safer and more comfortable? Find out by calling us today at (301) 230-7663 to schedule a FREE inspection and estimate.