Siding FAQs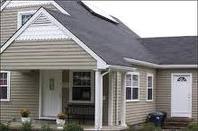 Will I ever have to paint my siding?
No! CertainTeed siding is virtually maintenance free. The most you ever have to do is give your home a washing with soap and water once or twice a year.
How long is the siding warranted for?
Most CertainTeed vinyl sidings are warranted for the lifetime of the original owner against manufacturing defects. Upon transfer of the property the siding is warranted from the date of installation for fifty years.
Does it come with matching trim?
CertainTeed offers the widest variety of trim pieces in the industry. Everything from function utility trims to substantial wide trims resembling dimensional lumber, fluted corner posts and decorative crown molding for window headers. Most items are available in all CertainTeed colors.
Does CertainTeed siding have seams?
CertainTeed sidings are designed to provide a virtually seamless appearance and a good siding installer will lap you siding away from traffic to further minimize the laps.
How much does it cost to side a home?
Because we offer sidings at a number of price points to fit any need and any budget, and because every home and siding job is unique, there is no way to answer this question. The best thing to do is invite a siding contractor to your home so he can measure it accurately and discuss other needs you may have.
What are the advantages of Longer Length Siding?
Longer length sidings are generally extended versions of standard size siding products. Standard sidings are usually 12' to 12-1/2' long. With standard siding panels, seams appear every two to three feet. Longer length sidings are typically offered in 16', 20' and 25' ranges. The primary benefit of longer length siding panels is that it reduces the number of seams on the wall. Most longer length sidings are designed to be installed with their standard-size counterparts so that various sizes can be used together on a project for efficient utilization of material.
Get a Free Siding Estimate
What can Roof Masters do to make your home safer and more comfortable? Find out by calling us today at (301) 230-7663 to schedule a FREE inspection and estimate.