How Replacing Your Windows Can Save You Money Every Month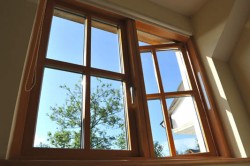 Does it always seem like the inside of your home is cooler than it should be in the winter and warmer in the summer than it should be? Are you frustrated with the rising costs of energy to keep your home comfortable?
Replacing your home's windows with new, energy-efficient replacement windows from Roof Masters is a smart move. We carry Energy Swing replacement windows, because they deliver superior thermal performance, ease of operation and durability over the long term.
Customers like our replacement windows because they are engineered for energy efficiency and custom made. After installation, you can expect to see a significant savings in your energy bill in the very first month.
There's strong data that suggests that Americans waste a lot of money on inefficient windows and doors. The U.S. Department of Energy estimates that 30% or more of a home's energy is lost through inefficient windows and doors. That's like throwing away nearly one-third of the money you spend to heat your home! Who can afford to throw money away?
Replacement windows and doors from Roof Masters will help cut your monthly home heating and cooling bills immediately – savings that will continue as long as you own your home. The dividends will be so obvious year after year.
We're "Low-E" Glass Replacement Window Experts
Along with visible light and UV light, sunlight contains IR (or infrared) light, which is what we know as heat. "Low-e" glass has the ability to block out certain amounts of harmful UV light as well as certain amounts of IR light.
Why is this important? "Low-e" glass reflects the IR light that enters your home, keeping your home cool during the hot summer. In the cold winter, your home is heated by a furnace or other type of heating system. Your "low-e" glass will keep that heat from escaping by reflecting the heat energy it creates back into your home, instead of letting it out like your current windows probably are doing.
Get a Free Replacement Windows Estimate
We've installed countless replacement windows in DC, Maryland and Northern Virginia. Our customers appreciate our knowledge and window selection. Call us today at (301) 230-7663 to schedule a FREE estimate on window and door replacement.