Why Choose Vinyl Siding for Your Maryland Home?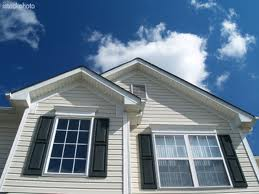 Roof Masters' siding contractors are proud to be the experts Maryland homeowners rely on for quality materials and professional installation. Our services continue to be in demand as the popularity of vinyl siding increases – and for good reason. This siding option is not only attractive, it's also quite practical. But we understand that most homeowners want to consider all the pros and cons before deciding on a siding material. Ask yourself these questions:
Are you are tired of painting your home every 3-5 years?
Do you want the look of a new home without having to move?
Do you want a more energy-efficient home so that you save money on your heating and cooling bills?
Do you want to increase your home's curb appeal and resale value?
Do you want a siding for the exterior of your home that won't rot, peel, warp or fade?
Do you want the best return for your investment?
If you answered "Yes!" to any of these questions, CertainTeed vinyl siding from Roof Masters is your best choice to make your home more beautiful, comfortable, energy-efficient and valuable.
A Proven Product
A choice for home improvement for more than 50 years, vinyl siding has quickly become the most popular siding material due to its strength, versatility and low maintenance. Its broad range of colors, patterns and profiles bring exciting choices to complement every type of architecture, from historical to modern. The insulating properties of vinyl siding keep your home cooler in the summer and warmer in the winter, as it stops air leakages that can cause up to 30% of normal heat loss or gain.
At Roof Masters,we use quality CertainTeed siding material installed by factory-trained vinyl siding installers. With well-trained team members who are efficient in the installation of vinyl siding, we are able to cut down on the amount of scrap material left at the end of a job, and recycle remaining scrap for future projects. This is a better choice for the environment and another benefit of choosing us. Contact one of our specialists today about your vinyl siding project.
Get a Free Maryland or Virginia Siding Estimate
Call Roof Masters today at (301) 230-7663 for a FREE siding estimate to complete our convenient online request form. We are experts at siding in Rockville, MD, Silver Spring, Bethesda, Germantown and many other Maryland and Northern Virginia locations, and you can rely on us for quality work and lasting value.