Call on Roof Masters for New Rain Gutters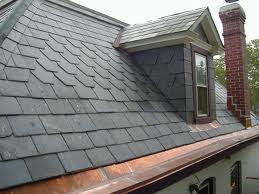 Your DC, Virginia or Maryland home's roofing system consists of many elements. Among the most important is the last element in the flow of water off your roof: the gutter system. The best roofs in the world can't do their jobs if the gutter systems are not installed properly or are free and clear of unnecessary debris.
Preventing rain, snow, moisture and even ice from entering your home is what a good roofing system is supposed to do. Your roof's shingles, tiles, panels, and flashing — all of these are designed to redirect water away from the home, eventually deflecting it to the roof edge. This is where your gutters come into the picture.
If gutters were not installed, water flowing from the roof would trickle down the side of the home and find a way inside your home. This could come by all kinds of openings, including exterior walls, through doors or windows, or seeping in through cracks or seams in the foundation. An efficient gutter system including properly installed downspouts prevents this by collecting the flow of water and redirecting it away from the house.
Roof Masters installs gutter systems that are proven to provide the necessary strength and capacity to handle the snow, ice and rain we experience here in Maryland and Virginia. In addition, we offer the Leaf Away and Leaf Relief gutter protection systems, two of the most highly popular and consumer-recommended gutter protection brands in the United States.
Get a Free Estimate on Gutters and Gutter Protection
How can Roof Masters help you with either replacing or repairing your home's gutter system, or provide you with a closer look on how the gutter protection system works? That's easy. Just call us today at (301) 230-7663 to schedule a FREE estimate and review of your gutter needs.