Need Repairs? Call the Maryland Roofing Professionals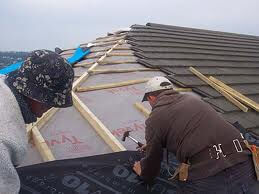 When it comes to roof repair in Rockville, MD or Fairfax, VA, more homeowners turn to Roof Masters for quality work, completed efficiently and affordably. We have helped hundreds of your neighbors in Maryland and Northern Virginia to recover from storm damage, wind damage, hailstorms and leaky roofs.
Quick Response When a Storm Strikes
The most unexpected and potentially dangerous damage to your home's roofing can come when a storm bears down and wreaks havoc in the area. Heavy rains, high winds, hail, snow and ice – all can tear off shingles, loosen flashing and overwhelm a poorly designed roof and gutter system. Flying debris and falling limbs can even penetrate the roof deck, allow water to enter freely and causing extensive damage to your home's structure.
Roof Masters is prepared to respond quickly when your home's roof is damaged in a storm. One call to (888) 889-7551 is all it takes for us to swing into action. Our emergency response team will make immediate short-term repairs to guard your home against further damage until the storm abates. From removing fallen trees to securing windows and doors, no job is too large or too small for our skilled technicians. Once the weather is calm, we'll return to conduct a complete inspection and make thorough, long-term repairs to restore your roof.
Roof Masters can also assist with filing of insurance claims with every major insurance carrier in order to make your recovery process as simple and convenient as possible. We will offer a detailed work estimate prior to beginning repairs.
Don't Let Little Problems Become Big Ones
You may be tempted to ignore a minor leak. But, rest assured, it will not go away on its own! Over many months, even a trickle of water entering your home can cause damage to walls, ceilings, floors, framing and the foundation. But it can be difficult to find the source of a leak.
As expert Maryland roofers, Roof Masters has the experience to identify and isolate the source of a leaky roof, and the resources to make the necessary repairs to restore your roof's integrity. Call us early to prevent a minor nuisance from becoming a huge, expensive headache.
Your home's roofing system provides important protection from the elements. In order to ensure the safety of your family and your home, call on the roof repair professionals Maryland homeowners trust above any other Maryland roofing contractor – Roof Masters.
Get a Fast & FREE Roof Repair Estimate
For fast, efficient Maryland roof repair, trust the experts at Roof Masters. Call us today at (301) 230-7663 or complete our on-line estimate request to schedule a FREE roof inspection and estimate. We are the experts local residents rely on for quality work and lasting value. For more information on our service areas, including Bethesda, Northern Virginia, Germantown, Silver Spring and other nearby towns.