You Have Choices in Roofing Materials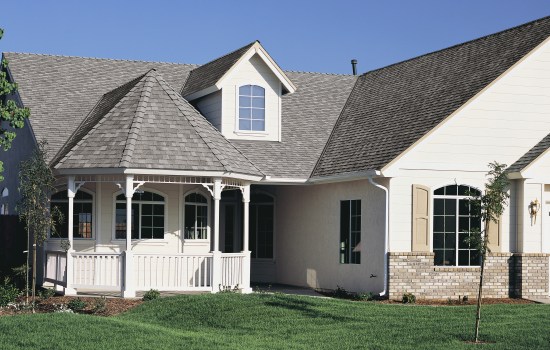 Repairing or replacing your home's roof requires a number of decisions, but the most important will be the contractor you choose for roofing in Montgomery County or Northern Virginia. The experts at Roof Masters can provide the most extensive experience and dedicated service, so that you'll truly enjoy the entire process.
Following your decision as to which contractor you will trust with your project, the next choice will be which roofing material to use. It's an important decision because whatever you choose will likely be gracing your home for decades! At Roof Masters, we offer a wide range of material choices to select from, and we're happy to provide samples and educate you about the pros and cons of any of the following roofing systems.
Asphalt Shingles
Asphalt shingles remain the most popular roofing choice in America, and for good reason. They're simple to install and require very little maintenance, and are available in a huge range of grades and styles to fit any budget. One of the most distinctive shingle choices is architectural shingles, also known as dimensional or laminated shingles. Architectural shingles feature two layers of shingle material bonded together, which allows for a shingle life of up to 50 years, greater strength and a beautiful varied finish. Multi-layered architectural shingles can be used to mimic high-end materials like slate and wood shake. Roof Masters prefers CertainTeed shingles for their quality, durability and warranty coverage.
Metal Roofing
One of the more expensive roofing materials, metal also offers a lifespan that's longer than most: 50 years or more. It's available in a wide assortment of designs and colors, plus it's lightweight, durable and can withstand fire, wind and hail.
Tile Roofing
Aesthetically pleasing tile features many different textures and colors. Priced similarly to wood, both concrete and clay tile will last 50 years and beyond. While tile requires little maintenance, it is very heavy and can only be installed on structures with adequate support.
Wood Shingles & Shakes
Generally manufactured from cedar due to its inherent resistance to rot, wood shingles and shakes add a natural appeal to a roof. With proper care, including treatment with preservatives, wood roofing can last 30-50 years and sometimes longer.
Get a Free Roof Inspection & Estimate
What can Roof Masters do to help you? Call us today at (301) 230-7663 to schedule a FREE roof inspection and estimate for any project, residential or commercial. We're the experts local residents rely on for quality work and lasting value. For more information on our service areas, including Loudoun County, Fairfax County, Prince George's County and the District, please visit our locations page.